A letter from our founder Dr. Burt Konzak
April 12, 2011
Dear Members of the Dojo, As you know, I have taken the difficult decision of retiring as Sensei of The Toronto Academy of Karate, Fitness and Health Inc. However, I am very proud and excited to be able to leave the Dojo in excellent hands. It is my great pleasure toannounce that one of our longest standing Dojo members will take over.
It is an honour to announce that, effective May 1, 2011, Mr. Bert Freeman will be appointed as the new Sensei and director of The Toronto Academy of Karate, Fitness and Health Inc. Bert Freeman joined the dojo in 1976 and achieved his black belt in 1982. He has been in the Dojo for 35 years. Everyone will remember the day, in 2010, when Bert Freeman, 65 years old, won first place in the Black Belt Kumite competition, an achievement of true Karate skill and spirit.
Mr. Freeman has taught many classes over the years and has always been a strong supporter of the dojo.
As a professional graphic designer, he has also helped me over the years to create and produce all of our marketing materials and our anniversary logo.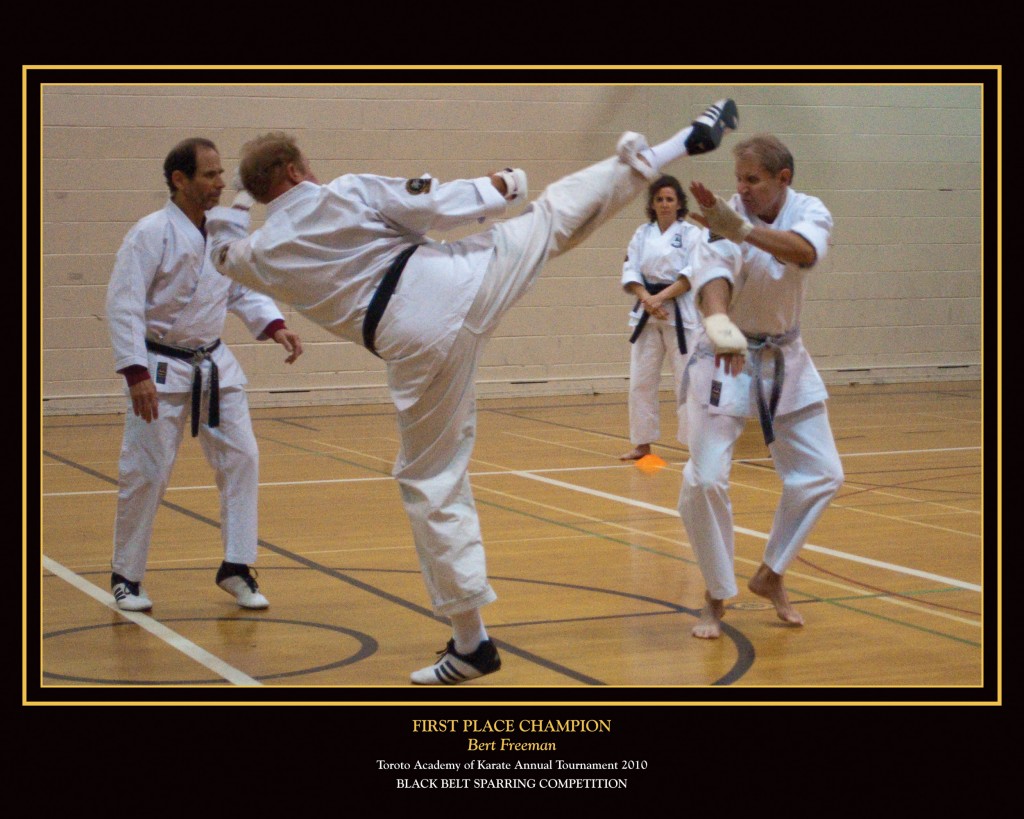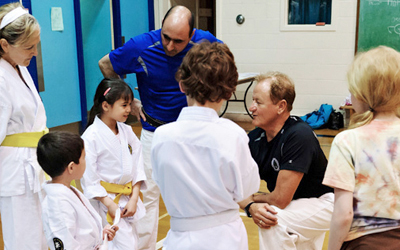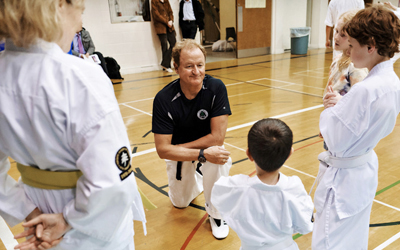 Bert Freeman has been married for 44 years to Carolyn, is a father to Kelly and grandfather to Jessica (14) and Sarah (11). He has been a successful businessman for over 40 years, and most recently was the President and Creative Director of Freeman Communications, an award-winning and a well known graphic design and marketing company in downtown Toronto.
I am confident that, with all these life skills, Bert Freeman will lead the dojo to continued excellence.
We have entered a very important period of transition in the already long life span of the Dojo and I have complete confidence that it will prove to be an exciting and inspiring one. I have worked with Mr. Freeman for over 35 years. He is a man of energy and integrity and I have great confidence in his skills. I know that he will be a true leader in the Toronto Academy and will work to extend further the love of karate-do that we all share.
With my very best wishes,
Burt Konzak
Our Founder
Dr. Burt Konzak is the founder of the Toronto Academy of Karate, Fitness and Health. He is a world-renowned martial artist, scholar and teacher and was a University of Toronto professor for over twenty-five years, teaching ethics, Asian philosophy and martial arts. Dr. Konzak has lectured at universities across North America and Japan. He has studied in Canada, United States, Japan, and Israel and was the recipient of the prestigious Ford Foundation Fellowship and other academic honors.
Dr. Konzak has written many scholarly publications on ethics, mental health, Asian philosophy, and martial arts. He is the author of the award-winning children's book, Noguchi the Samurai; North America's #1 rated self-defense book, Girl Power: Self-Defense for Teens, named by the Toronto Star as one of the best books for 1999; and Samurai Spirit: Ancient Wisdom for Modern Life, released by McClelland-Stewart in October of 2002 which received a glowing full-page review in the Sunday Toronto Star. Dr. Konzak was interviewed on the popular television shows Body and Health and More to Life. He discussed the Samurai Spirit and demonstrated karate-do. He was also the subject of an enthusiastic two page article in the Nikka Times, Canada's Japanese language newspaper.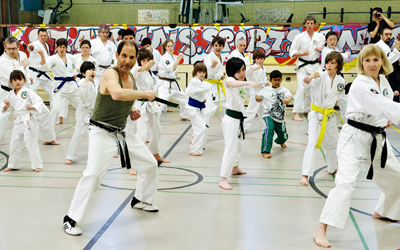 A renowned children's teacher, Dr. Konzak was the subject of a four page article in National Geographic World for the impact he has had on youth and has appeared on the covers of the best known international martial arts magazines. The Toronto Academy won the highly coveted Consumers' Choice Award for best Martial Arts and Self-Defense School. He and the Academy have been written about in major features in virtually every significant Toronto publication including: The Globe and Mail, Toronto Life, The Toronto Sun, The Toronto Star, and The National Post. Dr. Konzak has appeared on several hour long television shows on CFMT and TV Ontario and his demonstrations were on CBC's Man Alive, CTV's Canada AM and many other programs in both United States and Canada.
Dr. Konzak has taught workshops at different Zen monasteries, martial arts dojos, yoga schools, universities, and business and service organizations at Tokyo, Kyoto, Mishima, San Diego, San Francisco, New York, Mexico City, Calgary and across Ontario. He has also taught annually at the enormously popular Rocky Mountain Martial Arts Seminar in Banff, Alberta – combining mountain climbing, white water canoeing and karate-do training.
Dr. Konzak has developed youth programs for school boards across the country as well as directing, for over ten years, the University of Toronto Children's Karate Camp. He has also designed martial arts and self-defense programs for corporations and government agencies across Canada and the United States. He has taught young children, cabinet ministers, professional athletes and middle-aged people who have never before exercised. People in his classes have continued to come back year after year, many for decades.