WE BUILD STRONG FAMILIES
Parents & children can train together! We provide a safe, non-contact, friendly and supportive training environment for people of all ages with a focus on families.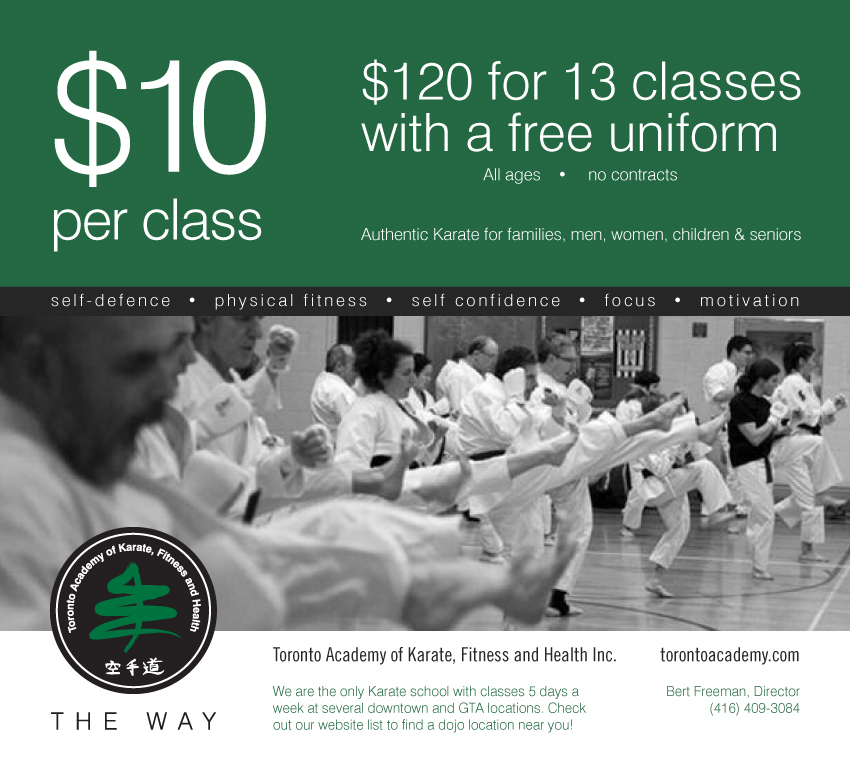 ---
There are no long-term contracts at the Toronto Academy. You will be promoted on the basis of your progress, not your pocket book.
Members pay in advance for each month (or other payment period if quarterly or annual payment is opted for), which entitles them to attend as many classes as they wish, 6 days per week.
You can begin paying quarterly or annually at any time. In addition to substantial savings, quarterly and annual payment is significantly less trouble as a result of not having to remember to pay every month.
Fees paid quarterly or annually are for three and twelve consecutive months respectively with the next payment due three months or twelve months from the previous payment. Transfer of payments to future months can be arranged by contacting sensei@torontoacademy.com.
The following fees are effective September 1, 2011 and include all taxes.
Payment Frequency

Adult Rate

Child, Student, Senior Rate

Your savings?

Monthly
$106

$99

$75

None, consider quarterly and annual payment
Quarterly (every 3 months)
$296

$274

$199

$88 per year, $104/year for children, students, and seniors
Annually
$1098

$999

$699

$174 per year, $201/year for children, students, and seniors
Additional Savings
FAMILY DISCOUNTS
Families with more than one child receive an additional 50% discount off each child!
NEW MEMBERS DISCOUNTS
If you join with a friend, you get a 10% discount off your fees for the first year.